I came across this recipe for spring greens zucchini lasagna in Experience L!fe magazine. I finally had a chance to try it last night. It came out pretty good and I was particularly excited about the roasted carrot sauce instead of the usual tomato sauce. Let me know what you think, here are my adaptations.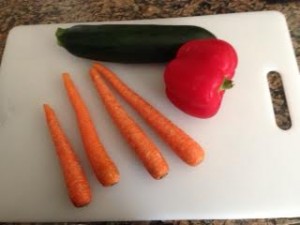 What you need:
4 large, whole carrots, washed and trimmed
1 red pepper
5 medium zucchini, cut lengthwise into 1/4-inch slices
Salt and black pepper (I used pink salt and peppercorns)
1 bag power greens (baby spinach, baby red chard, baby kale)
11/2 cups ricotta cheese
4 cloves garlic, (1 pressed 3 roasted)
2 eggs, beaten
Zest of 1 lemon
2 cups vegetable stock
2 tbs. chopped fresh dill
1/4 cup shredded quattro formaggio cheese (or any shredded cheese you like)
8 lasagna noodles (optional)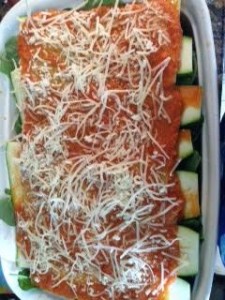 What you do for sauce:
Preheat oven to 375.
Roast carrots, red pepper and 3 cloves of garlic for 25 minutes or until tender.
Mix carrots, pepper, garlic and fresh dill in blender with 2 cups of vegetable stock and salt and pepper to taste.
*Note: I would have preferred more sauce, next time I will do 6-8 carrots and 3 cups of stock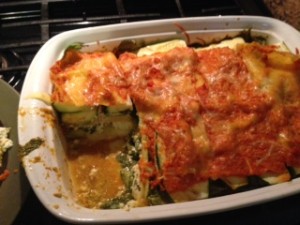 What to do:
While carrots are roasting slice zucchinis lengthwise.
Mix ricotta cheese with egg, garlic, lemon zest and salt and pepper
Pour a layer of sauce at the bottom of a 9×12 pan and put down a layer of zucchini
Pour half of ricotta over first layer. Add half of your greens.
Put a second layer of zucchini, a layer of noodles (optional) and a layer of sauce
Pour half of ricotta and rest of greens.
Layer of zucchini and noodles. Pour rest of sauce and sprinkle with cheese.
Bake at 350 covered for 35-45 minutes and uncovered for 10-15 or until cheese is melted.
***The original recipe roasted all the veggies first before making the lasagna. If it was early spring I would probably roast everything because the weather is still cooler or more back and forth and the roasting adds a warming element to the recipe. Because it was in the 80s yesterday and we are closer to summer than spring now I did not roast the veggies except for the sauce so that it is not quite as warming in nature. Also it was less time with an oven on! 🙂