Week 4
This was our family's first week trying to find our new "normal." It started off a little rocky. Ian made me a new perfume of baby boy pee, breastmilk, spit up and my tears of exhaustion. It took Lia almost 4 weeks to find her breaking point and had one day where in her words, "I don't like my brother ANYMORE!" A few one on one snuggles and adequate sleep and she is all lovy dovy again. Its taken longer to recover this time and mostly because of my own unrealistic expectations. I'm learning slowly how to ask for help but I admit I'm pretty terrible at it. I got some much needed rest yesterday.
I was thinking that the first few weeks of pregnancy so much is happening "behind the scenes." Cells are dividing, all sorts of things are developing and from the outside it appears as if nothing has happened. The 4th trimester is alot like that but in reverse. Its pretty incredible what the body goes through in such a short period of time. I feel like a inch worm as I feel parts of me expanding and contracting, bones shifting. Consciously taking pictures each week is a really nice  reminder of just how much change is happening and a gentle reminder to be kind to myself and the process. Here are week 4 pictures and a comparison from week 1 for perspective. I admit I decided to only do a side view picture because I couldn't bear to look at the front view ones, no less post them for the world to see but seeing the big picture leaves me in awe. Aren't our bodies amazing?
Week 4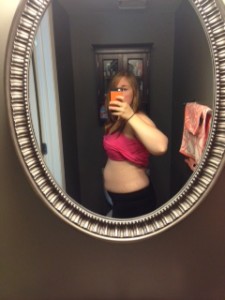 I have not changed my eating habits. (we made caramel chocolate chip cookies today) I haven't started any kind of exercise habits although I'm looking forward to it and will start with walking soon. I have not been consistent with binding but find it has helped quite a bit with finding my core strength again, that and deep belly breathing whenever I think about it. My priorities continue to be healing and establishing a healthy breastfeeding relationship.
2 days after birth                                       4 weeks post partum