Hey there, I was hoping to post these on Sundays in preparation for the week but got side tracked when we decided to paint a bedroom this weekend. It feels like a brand new house around here, amazing what a coat of paint will do. After 7 years we've finally made our mark on every room in our home.
Anyways, I was able to run out and grocery shop (with 2 kids in tow) yesterday. The marinated chicken from last week turned out to be a whole chicken, we shredded it and sautéed some shredded Brussel sprouts with a little lemon and parmesan added a avocado and made tacos last night that we shared with my mom. They were better than expected. I'm making stock with the bones today. We are heading in to Febuary which is a transitional time as we prepare for spring. I'm a ground hog baby so its especially fun to see what that ground hog says every year. I know spring is coming because my children aren't hibernating like they were in November and December. The sun is even out today! So with that in mind this week reflects some of the changing of the guard so to speak even if right now it is just ever so subtle. There is a lot going on in the world. Sometimes its hard to know what to do. I challenge you to share a meal this week with someone, maybe an old friend, a lonely neighbor or even just turning the TV off and the cell phone down and being fully present for the meal with whoever you're sharing it with.
Taco Soup  <— currently in the crock pot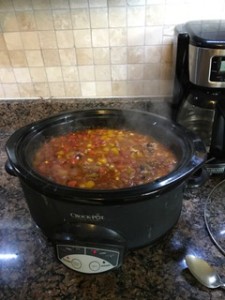 Chicken Stir Fry
Roasted Garlic Soup (new recipe I've been meaning to try for years!) that I'm pairing with butternut squash and feta savory muffins (also a new recipe)
Cheater meal: Frozen Indian
We have plans to be out a few nights this week and the meals we are making will make bountiful leftovers so that's it folks. I'll post some recipe adaptations throughout the week on the blog and pictures on Instagram/facebook.
Stay warm and healthy!