We've been having such an unusual "winter" this year. I hope you've been enjoying the mild weather and sun shine as much as I have. This salsa was inspired by the season of transition from winter to spring. The flavor of winter and the kidney system is salt, the flavor of the spleen system and transitions is sweet, and the flavor of spring and the liver system is sour. This salsa has a little bit of each flavor and its quite tasty and easy to make. You can enjoy it all through the spring time too as the sour flavors and cilantro have a gentle detoxifying effect on the body. We enjoyed it yesterday at a very special Yogapuncture for Balance with couples, hosted by Jill Eggert at Malooley Chiropractic in Cary.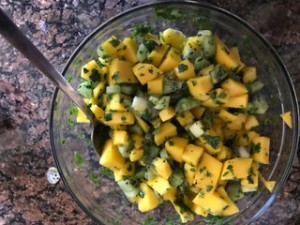 What you need:
2 Mangos, cubed (spleen)
3 Kiwis, cubed (Liver)
1 punch of cilantro chopped (Liver)
Juice of one Lime, or more to taste as you desire (Liver)
A pinch of salt to taste (Kidney)
Corn Tortilla Chips (Spleen/Kidney)
What you do:
Mix everything together and let stand. Eat at room temperature. Refrigerate to retain freshness, eat in 1-3 days. Enjoy!