How did your no white sugar challenge go? I did fairly well. I was able to easily avoid and not feel sad about several sweets put before me. I did take my daughter out for ice cream on Sunday and while it was good I don't know if it was quite worth feeling like a brick was sitting in my guts the rest of the evening. 🙂
This week my husband won't be home for half the week for dinner time. I don't know about you but for some reason when he's not around I have zero desire to cook dinner even though there are still 3 of us that need to eat!
Here is the plan for the week. What are your favorite quick and easy dinners?
Bachelorette Macaroni (I ate this quite a bit in my early 20s. Mac and cheese with tuna, broccoli and spinach. One pot and you're done.)
Skillet Gnocchi with Chard and White Beans (one of my favorite dinners)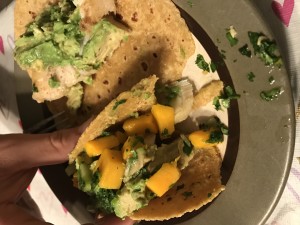 Fish Tacos with Kiwi Salsa
Potstickers with Rice, avocado and bok choy (we bake the pot stickers and mix the bok choy and avocado with the rice with a little soy sauce and gyoza sauce)
Kids choice (I'm sure this will end of being pancakes of some kind)