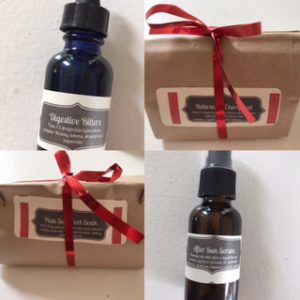 Doesn't it feel like sometimes we wait all year for the summer sunshine and before we know it, its over? These care packages were designed to support you for a healthy summer season.
Each package includes a Pink Salt Foot Soak, Relaxed and Energized Tea, Digestive Bitters and An after sun serum. Below I'll go into a little detail about the benefits of each. When you purchase your self care package you will also get access to a special blog post just for you with the recipes for each item so you can make more on your own!
Pink Salt Foot Soak
Summer is the time when we are more active and often times NOT wearing the most supportive shoes. This foot soak replenishes the body with magnesium from the Epsom salts and over 84 minerals and elements from the pink salts. The combo of pink salt, Epsom salt and baking soda make it very similar to taking a dip in the ocean which is very replenishing for the whole body. Lavender can also be cooling and its considered to be an adaptogen herb. While its known to be calming it can also be energizing if that's what your body needs as well. The foot soak is a great thing to do before bed for a good nights sleep as well. (You can recycle the foot soak water and use it to feed your plants or garden when you are done too)
Relaxed and Energized Tea
The color of the summer season is Red and this delightful tea blend is perfect iced or hot for summer. The chamomile keeps the tea calming and the circulatory properties of the hibiscus and rose hips are great for a non-ca ffeinated pick me up during the afternoon slump.
Digestive Bitters
The flavor of the summer season is bitter which is the most deficient flavor of US cuisine. These bitters boast the flavors and colors of summer and help support digestion. Take 20-30 minutes before a meal to prime digestion or after a meal if you've over indulged to aid fullness and gas. Mixed with sparkling water and fruit wedges its a perfect low alcoholic summer cocktail that benefits the body.
After Sun Serum
This after sun serum is infused by the sun much like a sun tea. The herbs are strained out before bottled. A little goes a long way to nourish the skin before an after prolonged sun exposure. Massage gently into skin.
If you would like to order a self care package they will be available at the Crystal Lake Yogapuncture this Friday at Bonnie's house or next Saturday at OhmMother Yoga. I can also ship to you for an additional fee. The cost is $35.