I usually make my meatballs from scratch but I have half a bag of Costco meatballs left over from Christmas that need using and the creamy meatballs recipe was on the label and it caught my attention. I'll high light what foods especially help nourish the kidney energy of winter. What I also like about this recipe is that you can add a few things to just about any recipe to give it a nutritional boost like spaghetti squash instead of pasta for example and fresh spinach and mushrooms instead of frozen or canned. The method of slow cooking and the richness of this dish is what makes it so good for winter. The spinach and artichokes ease the body's natural ability to digest and cleanse after a rich meal.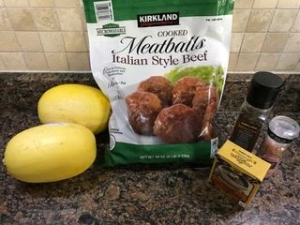 What you need:
1 bag of spinach
can or box of cream of mushroom soup
2 cups of water
2 cups ricotta cheese
1 Tblsp balsamic vinegar (don't tell my husband he thinks he doesn't like it)
18 meatballs
sliced mushrooms
artichoke hearts (I used frozen because I had them, they aren't on original recipe)
1 tsp red pepper flakes
salt and pepper to taste
parmesan cheese for garnish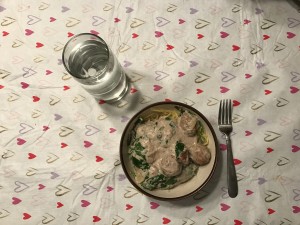 What to do:
Poke holes with a fork all around spaghettis squash and roast at 450 for 35-40 minutes or until soft.
In the meantime combine cheese, vinegar, soup, artichokes and mushrooms in pot and turn heat on low. Stir occasionally to combine. Add meatballs and cook until heated through. Rough chop spinach or chop in food processor and add 5-10 minutes before serving, stir well.
When squash is cooked, cut in half and deseed. Use a fork to fluff out the spaghetti squash and season lightly with salt and pepper. Pour cream sauce and meatballs over spaghetti and Enjoy!