My daughter I'm discovering is a unicorn eater. She has her favorite go to carbs like most kids but she will pretty effortlessly eat just about anything in front of her. My son started out this way and as he nears 2 has discovered the words No! and Yucky! I have no idea where 🙂
In an effort to get him to eat more than yogurt, cheese, crackers and seaweed I've been inspired by this weeks "eat your greens" challenge.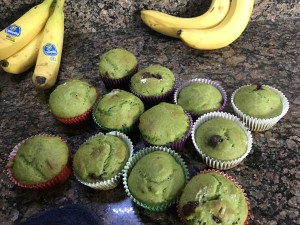 When I get back from a yoga class my son and I usually share a protein shake of some sort. I switched them over to green shakes this weekend and he no longer was so excited about them when they weren't chocolate. Yesterday I threw in some cocoa powder and dates and we were back in business. I realize that even lots of "grown ups" aren't huge fans of veggies and as a once very picky eater myself (sorry mom) I am sharing these 2 recipes to help you get more greens into your lives.
Chocolate "green" smoothie
What you need:
cup of packed spinach or greens of your choice
1 banana
3 dates
1 teaspoon cocoa powder
1 scoop of collagen
2 cups water
blend everything until smooth ( you could add a nut milk or honey for extra sweetness if you need to)
you could also switch out strawberries or raspberries for the banana to mix it up
Enjoy!
Magic Spring Muffins
We used maple syrup as this is technically in season right now but you could also use honey too.
What you need:
1 cup packed peas or spinach ( I used spinach)
1 cup milk of your choice, I used ripple plant based milk
1/4 melted coconut oil
1/2 cup (or more to taste) maple syrup
2 ripe smashed bananas
1 teaspoon vanilla
2 cups flour of your choice
1 teaspoon baking soda
2.5 teaspoons baking powder
1/2 teaspoon salt
1 teaspoon cinnamon
1/4 cup chocolate chips
What to do:
Preheat oven to 350 and line muffin tin.
Put spinach, milk in blender and blend until smooth. Add coconut oil, bananas, syrup, and vanilla to blender and blend until smooth again.
Add dry ingredients in mixing bowl and whisk to combine.
Add wet ingredients to dry and stir until green and creamy.
Pour in muffin tin 3/4 of the way full.
Bake 15-18 minutes.
Enjoy!