Sorry for the late posting I was trying to take a break from screens as much as I could after the time change to help with the transition. So far so good around here. I think the key was having everyone staying up too late on Saturday 🙂
Happy "worm" full moon last Friday also. My daughter and I started watching the moon just about a year ago and have really enjoyed learning what native cultures have named the full moons of each month and what they represent. The worm moon is so named because March is the month when the ground starts to thaw and soften allowing the worms to move to the surface and giving birds their food source back. It also means that garden planting is just around the corner! If you don't have a garden or space for a garden I encourage you to try growing something even if its in a pot, the wonderment and deliciousness never cease to amaze us. I was just reading last week that traditionally peas are sown on St. Patrick's day. We might give that a go.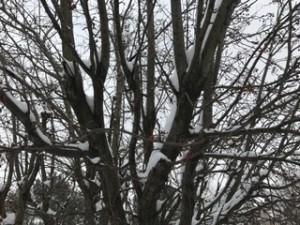 Its a strange sight to see snow again, it was kind of nice believing that winter was over now that we had adjusted to warmer weather. These March snows actually help the sap move in the maple trees to give more maple syrup. I just recently found this granola recipe and its the best one I've tried out, super yummy and delicious, if you want to pay homage to the maple syrup season this is a great recipe for it! Are you feeling your body's own internal movement of fluid? Anxious to be outside? That's the liver qi rising up and out after our winter rest. You can learn more about what that all means and how to get the most out of Spring at Yogapuncture for Spring this Saturday afternoon 3-6p at OhmMother Yoga. I'd love to see you there!
Here's what's on the menu this week around here:
Beef Chili
Mushroom Raveoli with spinach and mushrooms
Black Bean burgers
Cod and almond green beans
What are you cooking?