The focus of our yoga practice this season is about finding equilibrium during times of transition. In each pose be mindful of your breath especially in the spaces between the inhale and exhale, the place of becoming. That's what this season is all about. We do a series of postures in different ways to explore how it feels and which feel best for right now. The intention is to bring these postures into your daily practice however they feel best. Remember especially if you are short on time to pick 2 poses to practice everyday, the one from class you liked best and the one you liked least. 😉 Let's begin.
Qi Gong
Wide Mountain Twist
Stand with feet shoulder width apart or wider. Feel how your feet make contact with the ground. Inhale arms to T exhale twist upper body to the right keeping hips square. Move with breath inhaling to center and exhaling to twist noting the space between each inhale and exhale. Repeat 3 times on each side and return to wide mountain to observe body for 3 breaths.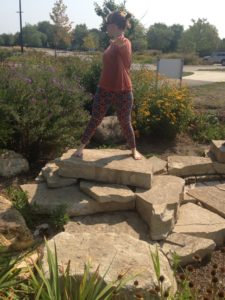 Standing with wide legs march in place for 3 breath cycles.
Closed leg mountain 
Standing with big toes touching and outer feet parallel inhale finger tips to shoulders exhale releasing shoulders down. Inhale lengthen spine and exhale twist. Repeat on opposite side. Do 3 rounds o each side.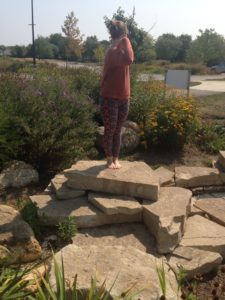 With feet together march in place for 3 breath cycles.
Mountain Pose
Bring feet hip width apart. Inhale arms to cactus, exhale twist. Repeat other side. Do 3 rounds, return to center and observe for 3 breaths.
Repeat one more round of standing mountain twist which ever feet and arm combination felt best in your body.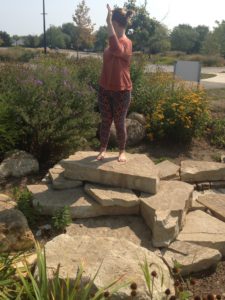 With feet hip distance apart march in place for 3 breath cycles.
Mahasirs Mudra
Curl ring finger into palm and bring middle and index finger to touch thumb. Keep pinky extended and rest back of hands on thighs or knees. This mudra can help with clearing congestion and headaches especially when caused by weather changes. It also can help when we are spending too much time in our heads. Rest in this mudra for 3-6 minutes spending time observing your breath allowing for the spaces between your inhalations and exhalations to comfortably lengthen.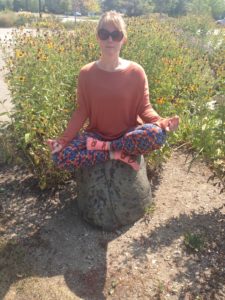 Acupressure SP6 & ST36
Bridge wide legged
Place feet shoulder width apart keeping knees and feet parallel. Arms are in a wide "V", shoulders and neck are relaxed. Take a deep breath and feel the pause, with the exhale lift the hips off of the ground and hold for 3 breaths. Inhale and release, exhale and allow the body to soften. Repeat 3 times.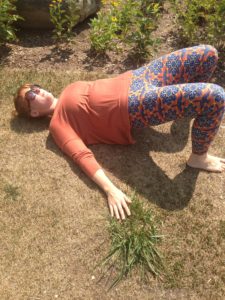 Low Twist
Lie on your back, knees bent feet on the floor. Bring arms to a "T". With an exhale drop knees to right with knees pointing down and away from the body. If you feel any tightness in the hips of knees elevate the left thigh/knee with a blanket or block. If you want to go deeper into the twist turn the head to the left. Take 3 deep breaths. Lift right leg and then left back to center when you are finished. Repeat on the left.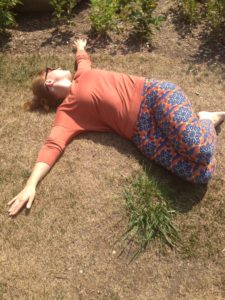 Bridge feet together
Thighs, knees and feet touching and arms close to body. Inhale, pause and exhale lift hips into bridge. Slide shoulders down and slide arms toward midline. Take 3 breath cycles and release. Observe effects of pose.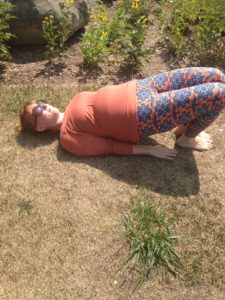 Twist II
Take a deep breath and as you exhale drop knees to the right bringing the thighs parallel with right arm. If any tightness is felt place a blanket or block under your right thigh. To go deeper turn head to the left. Both shoulders should be resting comfortably on the ground. Take 3 deep breaths, observing the gentle squeeze of the internal organs as you exhale.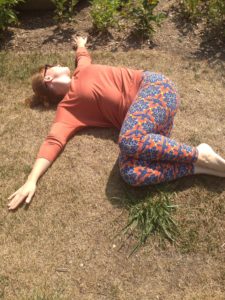 Bridge Pose
Bring feet hip distance apart for this bridge pose. You can place a block inbetween your thighs. Three breath cycles
Twist Up
Arms in T, exhale knees into chest. Inhale pause, exhale drop knees to right with the knees pointing up to the arm pit/shoulder. Place a blanket or block under thigh for support if needed. Take 3 breaths. Pause in the center and Repeat on the left.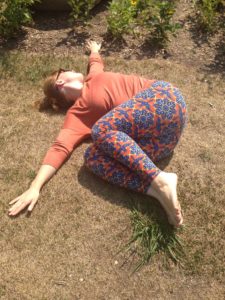 Supine Spleen Salutation
Start lying on your back, knees bent, feet hip width apart.
Inhale
exhale bridge pose
inhale release
exhale knees to chest arms up and over head
inhale release arms at sides, extend legs up bent knees if need be
exhale knees to chest
inhale to starting point, do 3-5 rounds
Final relaxation 
Hold for 5-10 minutes in restorative pose of your choice