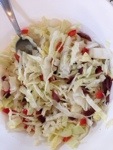 I had some leftover cabbage from fish tacos and was trying to decide what to do with it. It was a coin toss between Guatemalan hot dogs (which I love everything about but the hot dog) and Scrambled meat. I was cooking so you can see who won.
This is a classic recipe from my childhood with some basic modifications. My mom didn't have a recipe so its a whole lot of a little of this and a little of that but it is delicious and something we will be bringing into the regular rotation. Its a perfect Spring dish because it incorporates some spring foods but the meat helps to keep you warm on days when it should be warmer than it actually is.
What you need:
1/2 head of green cabbage
5 slices of bacon ( used nitrate free turkey bacon)
1 red pepper
2 tablespoons apple cider vinegar
1 tablespoon honey
1/4 cup water
pepper to taste
1 pound ground beef (preferably grassfed)
1/2 purple onion
3 cloves of garlic
head of cauliflower
salt and garlic powder to taste
What you do:
Start with cooking bacon until crispy.
Meanwhile, shred cabbage, chop red pepper, onion and garlic.
Make dressing for cabbage by combining water, apple cider vinegar, honey, black pepper. Set aside.
Crumble bacon and add to cabbage and red pepper. Drain bacon grease and warm dressing and pour over cabbage salad.
Brown ground beef, add onion and garlic half way through. Steam cauliflower with a clove of garlic. When cauliflower is tender put in blender and blend with 2 tablespoons butter salt and garlic powder to taste until smooth.
To assemble meal start with a layer of cauliflower mash. Add cabbage salad next. Top with ground beef.
Enjoy!