Peppermint is a very versatile oil/herb to have on hand when pregnant. Here is why, when and how to use it. Hope it helps!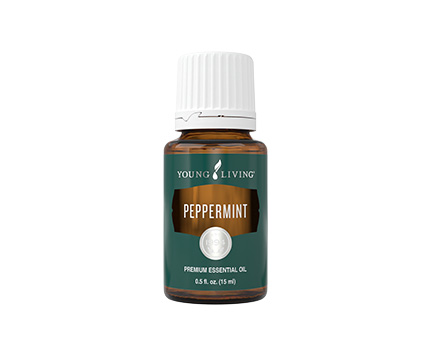 Peppermint is great to combat the digestive ails during pregnancy such as nausea, the burps, heartburn and flatulence.
Some women are sensitive to smells during pregnancy, especially early pregnancy. If that's the case the easiest way to get the benefits of peppermint oil for nausea is to simply take a deep breath while holding the bottle under your nose. Many people make the mistake of putting an essential oil bottle directly under their nose, instead hold the bottle by your heart and slowly bring it closer to the nose until you can smell it. This way it will be subtle and less overwhelming. Smelling peppermint from the bottle can be great for nausea, car sickness, indigestion and flatulence as well as if you are in an area with an unpleasant odor to help combat it. Stick the closed bottle in your purse or pocket to have on hand when needed.
You can also try massaging a drop of peppermint oil into the acu-point PC6. The combo of scent and acu pressure can be quite profound. From time to time you can feel free to hold your wrist close to your face and take a deep breath too.
Diffusing peppermint essential oil is another option. This can also be helpful for tummy troubles as well as fatigue, pregnancy brain, and feeling overheated. 🙂 If you don't have a diffuser you can place a drop of peppermint oil on a cotton ball and place in your car air vents or fill a spray bottle with water and a few drops of peppermint oil and mist into the air.
For feelings are heat you can add a drop of peppermint oil to a bowl of cool water and dip a wash cloth into the bowl, wring out and place the wash cloth on the back of your neck and/or back of knees to cool off.
Peppermint can also be added to coconut or olive oil as a massage oil for tired, achey, sore muscles. You can also try any of the above techniques for headaches too. (peppermint is very cooling in nature, if it causes discomfort cover the area with olive or coconut oil to cut the intensity of the sensation do not put water over the area as this will make it worse!)
A few drops of peppermint oil on the highest point of your belly or where baby's head is has been known to help turn a breech baby. (especially when in combination with moxabustion)
I recommend peppermint from young living because they are super high quality and pregnancy especially is not a time to be using toxic products. You can order some here!
Have you used peppermint oil during pregnancy? Did I miss anything?