I can't even remember how long ago it was that I found this recipe in I believe cooking light magazine. Its one of my favorites to bring to a summer BBQ. Its good served warm or cold although I prefer it served cold. The original recipe called for a cream cheese glaze, which is of course, delicious but over the years I've found a simple glaze to be just as good or you could skip the glaze all together. Let me know what you think!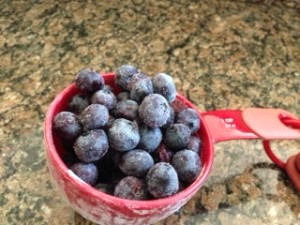 What you need:
2 cups flour
3/4 teaspoon baking soda
1/2 teaspoon salt
1/4 cup butter
1 cup sugar
2 ripe bananas, mashed
1 egg
1/3 cup plain yogurt (or sour cream or omit)
1 tablespoon vanilla
1 cup blueberries
1 tablespoon lemon zest
juice of 1 lemon
powdered sugar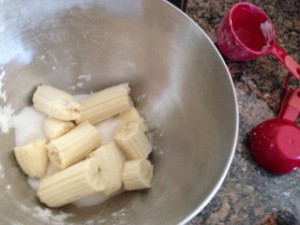 What you do:
Preheat oven to 350F. Beat sugar and butter.
Add Banana, egg, yogurt and vanilla until blended.
Mix in flour, baking soda and salt until moist.
Fold in blueberries and lemon zest.
Pour batter into 8 1/2 x 4 1/2 loaf pan.
Bake for appx 1 hour
To prepare glaze:
Squeeze juice of one lemon into a small bowl. Slowly stir in powdered sugar until you get the consistency you desire. Pour over bread after it has cooked and cooled and let set before serving.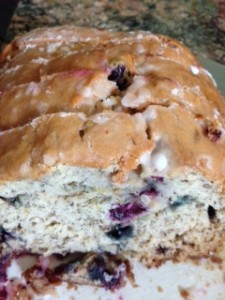 Enjoy!