I'm a big advocate for epsom salt baths. Many people don't have a tub, don't fit in a tub or just don't enjoy a good soak. My alternative recommendation is usually an epsom salt foot soak because its pretty easy to find a container to fill with warm water and salts to soak your feet. Your feet are the most porous part of your body making the salts readily available to your body so you can get the benefits of the salts. Sometimes there is just an area that is sore or tight that needs a little extra TLC and an Epsom salt spray is perfect for that.
I like to use Epsom salt sprays for menstrual cramps, shoulder pain, sciatica etc. This is also an awesome options to help with afterbirth pains. Its super simple to do too.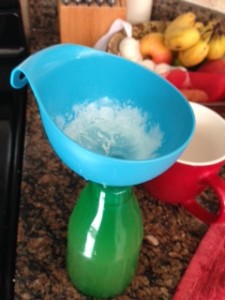 What you need:
a spray bottle (got one at the dollar store)
1 cups water
1 cup Epsom salts
essential oils (optional)
What you do:
I have a water cooler that has a hot water option so I simply pour hot water into a bowl and mix in the salts, stirring until dissolved. You could also warm water on the stove and mix in salts this way.
As the salts dissolve it will become thick and almost gel like in consistency.
If you'd like to incorporate essential oils for added benefit you can either place 10 drops of essential oil into Epsom salts before mixing into water or apply essential oil to the affected area first before applying spray.
Spray Epsom salt mixture over the affected area and cover with a warm or cool compress. (a damp washcloth works great)
If using the Epsom salt spray for relaxation I like to use peace and calming essential oil blend or lavender. For tight, sore muscles I love aroma seiz. A combo of wintergreen (cooling), lemongrass (warming) and cypress (great for circulation) is awesome for all sorts of aches and pains as well. You can order essential oils here. If you need help I'd be happy to get you set up! If you love Epsom salts as much as I do this is an awesome place to order salts in bulk. 
Let me know what you use Salt Sprays for. 🙂