This story all started back here if you want to start from the beginning. This has been tough to put to words. It seems like the most intense parts of labor have almost been wiped from my memory and I find I have to rely alot on my husband sharing his experience of our birth to remember mine which in some ways has been cool. It feels like our birth story and not just mine.
The last few weeks of pregnancy were rough for many reasons. I was big. and tired. and crabby. and not quite sure how all the was going to go. We had storms quite frequently and it seemed I would get a regular pattern of contractions every time the rain started and it would all peeter out as soon as the rain stopped. It was exhausting. The last week I was pretty sure this kiddo was going to come out with a square head because no matter how I sat it felt like I was sitting on someone's head. Even with all that I wasn't in any particular hurry to get the party started.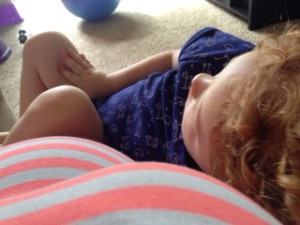 I felt like this place of inbetween was an important time as well. I felt like I was grieving and savoring the last moments of the life that I knew. I would soak up all of the snuggles with my daughter that I could as well as the time we had as a family of three. We would laugh at our suburban cliche taking walks around the neighborhood: waddling pregnant mama, toddler in a stroller, happy couple holding hands.
On a Saturday morning after a particularly hormone induced crab fest the night before that sent my husband running for bed I woke up early. I tip toed downstairs to sneak in a few quiet moments alone. I had no idea how I was going to survive another day pregnant. My stomach felt a little queasy and I went to the bathroom. My daughter came downstairs a half hour later. She curled into my lap and I savored the squeeze. A few minutes later I felt a contraction that felt midly intense and another a few minutes after that, that I had to breathe through and ask my daughter not to talk for a minute. I told my daughter today might be the day that baby would come. I thought it might be time to wake up my husband and call in the troops. I went upstairs and said, "I think I might be in labor." My husband called the midwife and they told him they were on their way. I called my mom and told her it might be a good idea to come over. When I hung up the phone I thought to myself, "I really hope I'm in labor because I don't know what I will do if all of these people come and nothing happens." Luckily that's not what happened. My husband was on the phone with the doula and I said I would talk to her. I still wasn't sure if I was really in labor. She asked if she wanted me to come over and I said I don't know. She said we've been on the phone for 5 minutes and you've had 2 contractions so I said maybe you should come then. I told my husband it would probably be a good idea to make some breakfast and for some reason it felt really important to take a shower. I ran upstairs to take a quick shower while Christian made breakfast. The phone seemed to be ringing all the time.
I came downstairs took one smell of scrambled eggs and thought I would be sick. I ate one bite and ran to the bathroom. I was pacing around the house feeling really lucid and so very different than when I was in labor the first time. I had to stand and lean into something and breathe during contractions. Everything was so intense. There barely seemed to be any time to catch my breath. I was leaning against the ledge between the family room and kitchen during a particularily wicked contraction when I looked down and saw my belly wiggle in the craziest way I've ever seen. When I didn't think I could handle that contraction any longer my water exploded and clear fluid ran down my legs. My doula was in the kitchen and I said, "my water broke." One minute everyone was looking for a towel for the water on the floor and the next I was moaning the battle cry of labor: this baby wanted out NOW. My doula said, "is the baby right there?" and I said yes. Christian called the midwife to see how far away she was and she said she was close. She told him to get me on my left side to help slow things down. Christian and the doula quickly laid down a shower curtain and helped me to the floor. I can't remember what they asked me when I got to the floor but I remember saying, "I think I just shit my pants." (which I did and its not nearly as horrifying in the moment as it seems when you're worried about it pre labor)
At this point it felt like I had never been more in my body and outside of my body at the same time. The midwife arrived and I started pushing. It probably was only minutes but it felt like forever pushing and I kept thinking this baby has been so low what is taking so long? My husband says at this point he watch the head slowly be born, first the crown of the head, eyes, nose and upper lip. A short pause and the rest of the head was born. At this point it was discovered that the cord was around the neck, twice and according to the midwife it was tight. The room was tense but it didn't seem like a big deal to me even in the moment. She asked me to stop pushing which seemed pretty impossible. Unbeknownst to me the midwife got her finger under the cord and my husband swiftly took it off. Baby was born in one fell swoop so quickly after that I barely felt it and I heard the midwife say, "someone catch the baby." So I reached over and scooped the baby up catching a quick glimpse of what were undeniably testicles as I brought baby to my chest.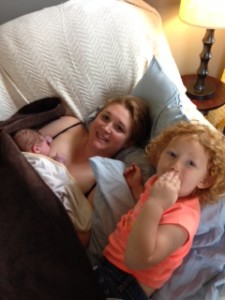 This little baby was purple and quiet and the midwife said talk to your baby as she flicked his feet. I can't remember all I said but I remember saying "Its a boy, Ian is here. We are so glad you are here." And he let out a cry and an audible exhale filled the room. I think it was the breath I had been holding the whole time I was pregnant. Lia and my mom came downstairs shortly after and got to meet baby Ian. By this time everyone had arrived. The midwives did the repair as I continued to lay on the family room floor. At some point Christian ran back upstairs to turn the water off that was filling the birth tub we never had a chance to use. We got to hang out as a family for quite a while before Ian was weighed or measured. It was really nice to have that time.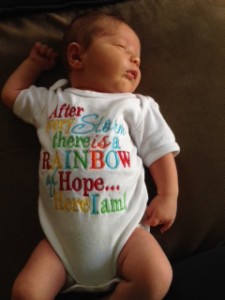 The short, intense labor and the long repair were overwhelming. Even through all that it felt so perfect to me. It felt so cool to be surrounded by all these women and my family in this moment that we welcomed our son into the world with the sun shining through the windows behind me.
All the things I was worried about were for nothing. I still can't believe how very different this labor felt. I even remember saying those words during labor, "this is all so different." The transition to a family of 4 has been surprisingly smooth (so far) and I still am in awe of my daughter's patience and the love she has for her baby brother. (she still has so much to teach me) My husband as been a super rockstar taking care of everything while I heal and making sure that our daughter had some one on one attention and some adventures. My only regret is how crabby I was the night before we became a family of 4. I'm so thankful I get to share this wild ride of parenthood with him. I know I'm biased but I think we make some pretty wonderful children.