Happy Winter Solstice!
Today is the shortest day of the year and to me that feels like really good news. It means that everyday will become just a little bit lighter.
Like we talked about in the winter yogapuncture winter is the time of going inward, when our energy is deep and we should be resting. This can be tricky to balance with the holiday season.
Today take some time ideally somewhere between 3-7 (its when the kidney/urinary bladder the organ system of the season is most active in the body) and come into constructive rest pose. Its deeply restorative for your body and if held for 10 minutes is the equivalent of 2 hours sleep.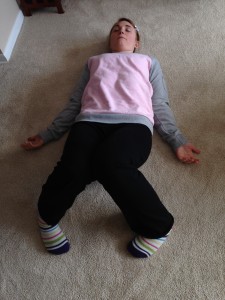 For more info and how to do constructive rest pose head over here to the archives! Breathe deep and enjoy!
Want to know more about thriving in the winter season? Join me Saturday Jan 14th at OhmMother Yoga for the next Seasonal Harmony: Yogapuncture for Winter. For more information and to register visit here.