The pathogen that is most active in the fall is dryness. Interestingly enough, the lungs which are associated with the fall also control the skin and this is a common place to experience dryness starting in the fall and carrying into winter.
I have talked about dry brushing in the past as well as home made Epsom salt spray. Recently I started combining the two. The results so far have left my skin feeling smooth and polished like I just spent the day at the beach without the sand.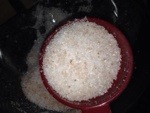 My routine is to dryness brush before a shower and then during the shower I will spray my skin with the Epsom salt spray and massage for a gentle extra exfoliation and then continue my shower as usual.
To read more about the benefits of dry brushing and Epsom salts click on the respective links. Let me know what you think!